Types
Nowadays you can get many different styles of radiator to blend in with the decor of your home or to make a design statement.
Steel panel type which is the most common type, available in numerous shapes and sizes, designed to blend in to any room. Aluminium radiators are becoming increasingly popular, as are cast irom radiators, particularly in more traditional style homes.
Perimeter heating, commonly referred at as 'skirting heating' is an effective and unobtrusive way to provide heat in a room. The units, which are normally about 200mm high, run continuously at low level around the walls of the room. However, it is sometimes difficult to find sufficient wall space to accommodate enough skirting heating to heat the room effectively. It is possible to combine a run of skirting with radiators if necessary.
There is a wide range of modern colum radiators and other designs available for contemporary interiors.
Low surface temperature radiators are available most commonly for use in hospitals. Schools, nurseries or sheltered accommodation, but they may be used in the home where there are particular safety needs.
Fan convectors, although small, are capable of providing a lot of heat and are ideal where there is only limited wall space. These heaters are also available in a 'Kick space unit' for building-in at low level in kitchens or bedrooms etc.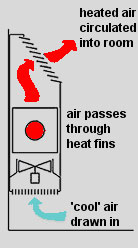 Interest in Underfloor heating is growing fast, particularly in new homes where the plastic pipe used ifor this form of heating, is able to be laid before the floor surfaces are put down. Underfloor heating operates at quite low temperature not to give a feeling of comfort when walking around, but also to prevent any possible damageto furnishings and fabrics. Underfloor heating is likely to be substantially more expensive to install than a conventional system