RobusTo Series
Stoker Solid Fuel Boilers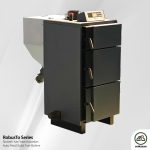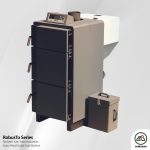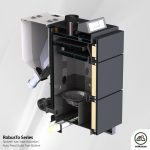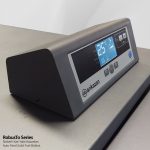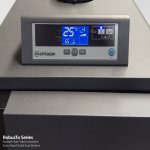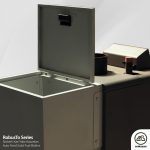 Comfort with Economy
With an advanced control panel, light weight new generation reducer motors, auto grill mixer, drop feeding system and stainless steel grate, RobusTO series offer the best available domestic auto feeding coal boilers in the market.
With 3 pass baffle plate heat exchanger system inside the combustion chamber, Unlike the tubed models in the market, heavy accumulation of soot is eliminated by this system. Moreover, Cleaning has been simplified more than ever. Large loading doors allow fast reloading and ease in cleaning. With its Compact size and weight installation process is made fast and convenient.
Fuel tank is placed at the rear to enable a compact structure and a smaller footprint in the house. This product will heat your house and keep your wallet in your pocket.
Features :
Control Panel: Advanced control panel regulates the boiler by thermostatically controlling the fan by set temperature. It is able to hibernate the fire by feeding small amounts in periods.
Chimney Regulator: Strong draft could distort the combustion process therefore must be regulated. A standard feature in Robus series, the draft regulator set during commissioning by the installer eliminates this problem.
Air Fan: High capacity radial fans provides the air required by the combustion efficiently and quietly.
Large Loading Doors: Loading, Refueling and servicing made extremely easy thanks to the large opening doors of the Robus series.
Special Grates: These long life stainless steel grills have a mixer system which mixes the fire regularly to improve the combustion.
New generation reducers: Light weight, lower consumption and long life reducers do not require maintenance and ensures years of operation.